Carpet Flooring in Edmond, OK, with More Bang for Your Buck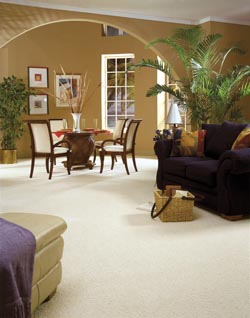 A nice new floor shouldn't be out of financial reach, and you can be sure that The Floor Trader of Edmond works hard to ensure it never is. Our locally owned and operated business buys in bulk right from the factory to bring you beautiful materials at discount prices that save you money. Home and business owners as well as professional contractors can find quality carpet flooring in Edmond, OK, with enough textures, patterns, and fibers for any property.
At our showroom, you'll find residential and commercial product options alongside experts who are as enthusiastic as they are knowledgeable. They can match you with Berber carpet and other styles from some of the best brands on the market. These include:
Mohawk
Shaw
Mannington
Armstrong
Resista SoftStyle & Refresh
Tigressa SoftStyle
Tigressa H2O
Tigressa Cherish
Syna-Flex
Landmark
Helping You Keep Your Carpeting in Good Condition
Keeping your carpet repaired and well maintained helps it last longer and perform better, saving you money on early replacements. There are plenty of effective cleaners for you to choose from that are made specifically for carpets--just be sure to test them before using them. You can also feel free to ask our associates about removing stubborn stains and spills; after all of our years as a carpet store, we have plenty of experience with this.
Proper care and maintenance mean your floor stays beautiful for years. We recommend vacuuming heavy-traffic areas every day and other parts of your carpet once a week. You're also encouraged to obtain references and estimates when hiring a professional carpet cleaner, so you know what to expect. Due diligence like this spares you unnecessary messes and expensive headaches.
Guiding You Through Carpet Installation
Hiring an installer can be a tricky task, but rest assured we've made it easy. The Floor Trader of Edmond maintains a Preferred Installer list with no hidden charges and no middleman. You can meet the installers, receive quotes, and pick the one who's right for you. No payment is required until the job is done to your satisfaction.
We can also help you with DIY carpet installation--because sometimes it just feels better to do it on your terms. Every member of our staff is here to help you with whatever you need for a successful home renovation. You're welcome to come and ask questions any time.
---
Contact us to shop our stylish selection today. We serve the residents, proprietors, and professionals of Edmond, Oklahoma, and the surrounding areas.