Carpet Flooring in Oklahoma City, Ardmore, Edmond, & Weatherford, OK
When it's time to remodel your interior, making an upgrade to the flooring is always a smart choice. Our selection of carpet flooring at The Floor Trader of Oklahoma City in Oklahoma City, Ardmore, Edmond, and Weatherford, OK, make it easier to change the ambiance of your home or office. When you visit us, you have the resources and materials you need for your next successful remodeling project. Speak with one of our sales associates and explore your interior design options. By combining versatility, visual appeal, and value, re-flooring has never been more exciting.
Carpet flooring has long been trusted for its familiar aesthetics, variety in texture, and innate ability to instill a welcoming ambiance. The soft texture of carpeting comes from its many different weave patterns. Styles such as Berber and Saxony are great for presenting a distinct style in your home or office. Different styles add a sense of luxury, comfort, and even durability to your flooring surface. The many soft fibers which compose carpeting also add a layer of soundproofing, allowing for spaces that look and sound more welcoming.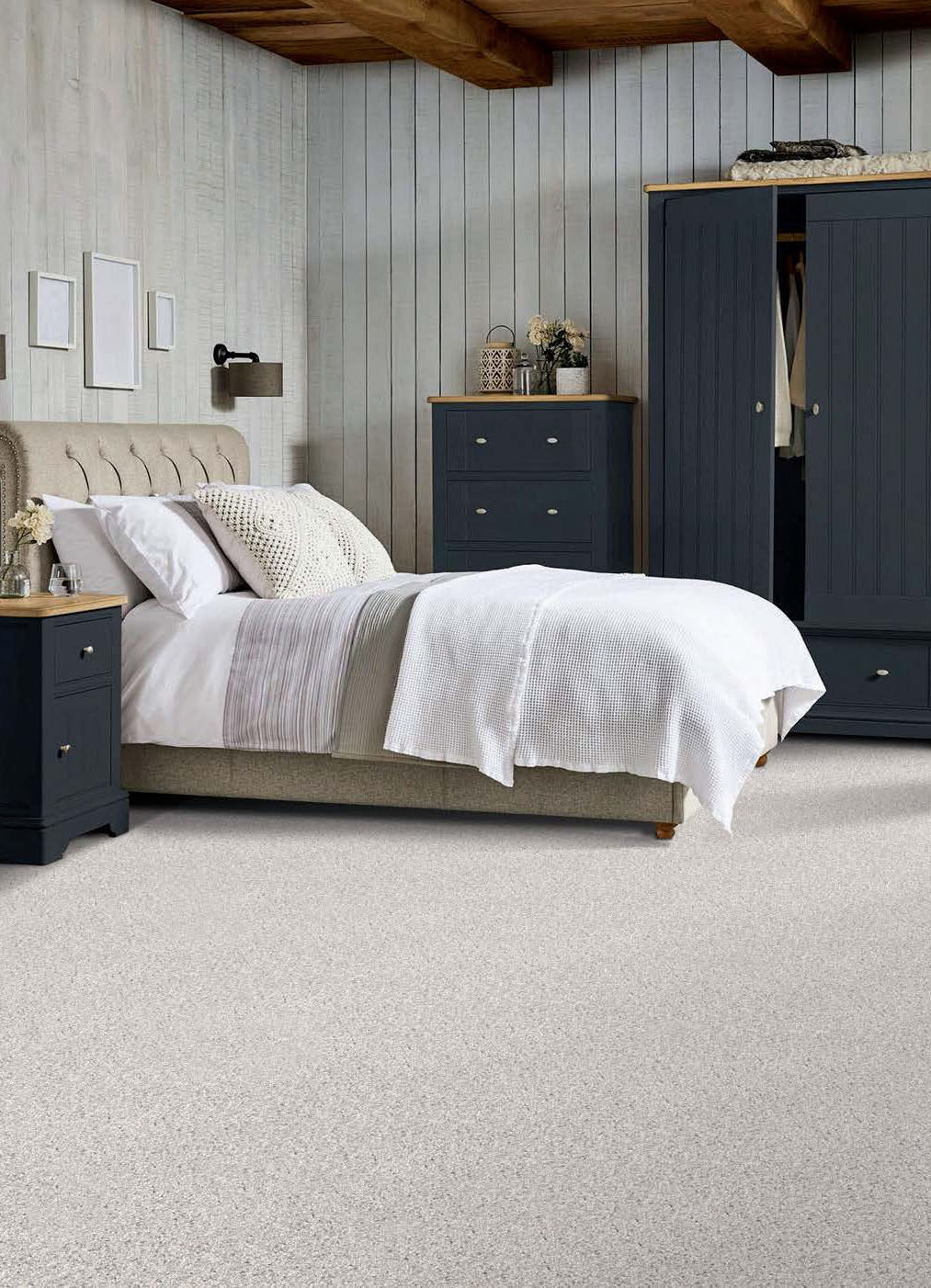 Diverse Selection from Respected Brands
Carpeting is a great option for property owners who wish to impart a specific visual appeal to their interiors. Advanced dyeing processes have allowed carpet to take on a wide variety of colors and patterns, which open the door for more diverse interior design options. Our carpet warehouse proudly displays many different color selections to inspire your creativity. A spectrum of colors, hues, and shades such as neutrals and earth tones are at your disposal.

Advances in manufacturing technology have allowed carpeting to look great while also withstanding everyday wear and tear. Stain-resistance, dirt-hiding capabilities, and even waterproofing capabilities are available in carpet flooring. We are proud to include many well-known carpet brands in our catalog of products. Well-known for their reputation of strength, lasting durability, and visual appeal, you can count on our array of trusted manufacturers to bring out the best in your interior. We proudly carry products from:
Mohawk

Shaw

Tigressa

Resista
Carpet Types For Your Home
Whether you are looking for carpeting that will make your home more comfortable or make a statement, we have the right fit for you. Our different carpet types offer surfaces that are non-slip and cozy, making them perfect for your family. All of our carpet types are comfortable and are often allergy-resistant. Your carpet's durability and performance can be affected by factors including fiber type, pile height, face weight, gauge, twist level, tuft bind, density, and stitch rate. Due to this, we advise working with our expert associates when picking out your new carpet. Our store offers multiple styles of carpeting and our team can help you make the perfect choice for your home. Learn more about the carpeting types we carry:
Berber
Berber carpets offer a unique style that will make a statement in your home. This type of carpet is soft to the touch and cushiony underfoot. Berber can be found in a variety of pile heights and it can also be constructed as a multi-level loop or level-loop carpet. The natural strength and ability to hide soil in high-traffic areas make Berber carpets make it one of the most popular and versatile carpeting items on the market today.
Frieze
Look no further than Frieze carpets if you are in search of a type of carpet that is soft and plush. Frieze carpets are recognized for being silky smooth to the touch and for being resilient against stains and dirt. With its knotted appearance, this type of carpeting can bring a great texture into your space.
Loop & Cut-Loop
Loop carpeting is made out of uncut looped fibers. It offers a level surface that is typically woven or tufted. Cut-loop carpeting is made of fibers that are straight and that have been cut. This design gives cut-loop carpeting a snag-free consistency that is great for homes with pets and children. Both of these styles will bring a warm and homey atmosphere to your space and can easily hide imprints.
Pattern
Patterned carpets are great if you're looking to make a bold statement in your home. Patterns on carpets are created using a process similar to printing paper, such as flatbed screen printing and rotary screen printing. If you're looking to add a unique pattern to your room, this is a great option for you.
Saxony
This rich carpeting is known for being resistant to shading, wear, and traffic marks in your home. Saxony carpets are cut-pile carpets that are sure to make your home look opulent.
Maintaining Your New Carpet
Once your new carpet has been installed, get ready for the ease of your carpet's maintenance. Our carpeting selections were created with long-term wear and tear in mind so we made them withstand even the toughest damage and stains. We recommend vacuuming your carpet at least twice per week as well as an annual cleaning so that it will keep its fresh appearance. Consulting your warranty before using a carpet cleaner on your new flooring is a great way to find out which products will keep your carpet like-new, as some chemicals could damage the carpet's fibers.
Let Us Handle Your Installation
While carpet flooring offers ease of installation, it is important to ensure your investment is installed accurately with precision to detail. Contact us before installation and we can provide you with a list of professional, well-recommended floor installers. Our network of professional technicians has a proven track record of expertise with no hidden charges. As a Floor Trader customer, you have the option to get several quotes before making an informed decision.
Contact us to learn more about the latest additions to our carpet flooring selection. We proudly serve customers in Oklahoma City, Edmond, Ardmore, Weatherford, OK, and the surrounding area.