Cohesive Carpet Flooring in Weatherford, OK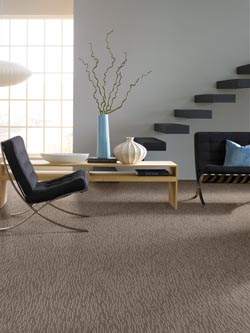 Designing your home is a lot like picking out an outfit. You want a look that's distinctive, but complementary. One that incorporates creative elements, but connects them well enough that no one feature overpowers the others. The biggest difference between an outfit and a home, however, is that you don't get to switch home designs every day.
That's why, when it comes to a foundational feature like your flooring, you want to pick something that you'll love for the foreseeable future. For that task, you can find help at the Floor Trader of Weatherford. We offer affordable carpet flooring in Weatherford, OK, in an incredible array of colors and materials for you to choose from, allowing you to get a finished look for your home that:
Looks Great
Stands Up to Pressure
Showcases Your Personality
Delivers Supreme Comfortability
Carpet: The Key to Comfort
It takes a keen eye and a strong vision to plan any flooring project. When comfort is the goal, there's one option that always works--carpet. Our products come from today's most trusted manufacturers. Utilizing rich, plush fibers, these soft surfaces are perfect for anything from the den to your bedroom.
With carpeting from our inventory, you have the power to craft any space with clean, precise style while maintaining a level of relaxation that few materials can match. If our carpet options were any more comfortable, we'd be a mattress store!
It's not just the materials that make our shopping experience refreshing, though. An expansive inventory is important, but we also believe in delivering comprehensive customer support. Whether you're looking for our best sales or a particular brand, our in-store staff are on standby to lend a hand with your question and concerns.
The Team that Does More
We'll be the first to admit: we're far from the only carpet store out there. What we definitely are, however, is the only flooring destination where you'll find our level of commitment to your satisfaction. From project planning advice to a carpet installation connection, we do everything in our power to ensure that you get the best results possible.
Most importantly, we tailor our service to meet the needs of our customers. We supply luxurious carpet at affordable prices, but we also have a wide range of other flooring options for your entire home, including highly coveted coverings like natural hardwood. Whatever flooring you need to love your space, find it at the Floor Trader of Weatherford.
---
Contact us to speak with one of our flooring experts about the unique needs of your project. We proudly serve Weatherford, OK, and the surrounding areas.