Hardwood Flooring in Edmond, OK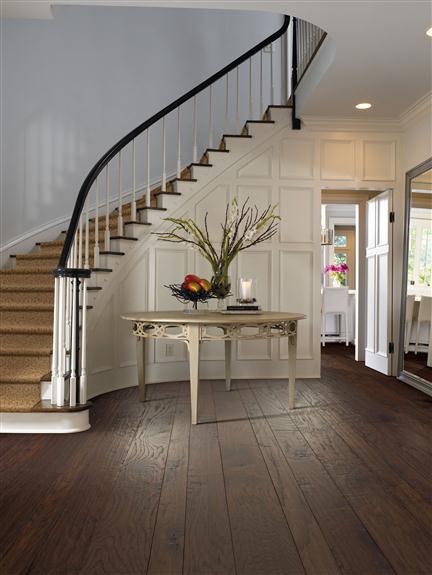 Add the look of luxury to every room of your home when you shop with us at Floor Trader of Edmond for your hardwood flooring in Edmond, OK. At our local showroom, we proudly stock a full selection of options from some of the top brands in the industry. Whether you are looking for a new addition to your bedroom, kitchen, or entryway, you are sure to find flooring you'll love when you visit our store. Our collection of solid and engineered hardwood features textures and tones to fit nearly every taste preference. Work with our professionals to discover the right flooring option for your space.
The Benefits of Hardwood Flooring
When you are ready for a style upgrade at your space, hardwood flooring is a top option for a number of reasons. This durable and beautiful material offers homeowners a classic appearance for every room. With endless options to choose from, you are sure to find the perfect hardwood flooring for any part of your home.
Dependable & Expert Hardwood Installation Services
Once you have chosen the right hardwood flooring for your home, let us finish your job. As a reputable flooring business, we offer clients more than just a large selection of flooring options. Local residents continue to shop with us because of the expertise offered by our associates doing the selection and installation process.
Not only do we help you choose the perfect wood flooring for your home, but we also ensure that it is installed properly and efficiently. Our professional hardwood flooring installation services are available for jobs of any size and complexity.
Engineered & Solid Hardwood Flooring
While hardwood flooring is a popular option for most homeowners, it is important that you select the right product to fit your needs. Solid and engineered hardwood both offer a series of benefits that make them ideal for different parts of a home. Our team is happy to recommend products that suit your taste preferences and style goals.
In addition to our selection of natural wood flooring, we also carry a collection of engineered hardwood. Instead of a solid plank of wood, this product features multiple layers of manufactured wood materials. Each plank is topped with a thin layer of natural wood, guaranteeing the desired look and texture. While this type of flooring cannot be refinished like solid hardwood, it is still a great choice for homeowners looking for the right addition to their space.
---
Contact us in Edmond, Oklahoma, to learn about our selection of hardwood flooring. Our collection is available throughout the area.