Hardwood Flooring in Oklahoma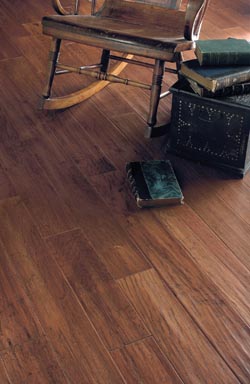 Upgrade your residential or commercial space with a style from our broad selection of premium and discount hardwood flooring in Oklahoma. The rich hues and distinctive variations of real wood take any room to the next level with a new sense of timeless elegance. If you're in the market for a new wood floor but can't afford to stretch your budget, then we'll be glad to provide an affordable solution that works best for your financial goals. Our large showroom of flooring products enables us to offer you a wide range of beautiful discounted solid, engineered, and handscraped hardwood flooring without depleting your savings.
By taking advantage of the savings we provide for hardwood floors, you'll be able to enjoy them even more by knowing that you've made a worthwhile investment while remaining comfortably within your budget. Wood flooring is a simple way to add elegance and sophistication to any space, instantly increasing the value of the property. Homeowners, small-business contractors, remodelers, and interior designers shop our flooring warehouse showroom for the same reason: low prices on quality wood floors.
From maple and cherry to hickory, oak, and handscraped hardwood, there are many varieties of floors to choose from when you visit our flooring center. We carry a massive selection of classy wood floors that give you or your client the ability to create a truly customized look for any aesthetic preference. Because we are part of a nationwide chain of stores, you will only pay a fraction of the typical cost for your floors when you work with us for your next project. You can avoid paying more than is necessary for hardwood floors and get the most for your design dollar when you shop with us.
Our flooring warehouse maintains a low overhead by bypassing the unnecessary expenses that fancier showrooms have to cover, which results in guaranteed lower prices on all of our hardwood flooring products. In turn, we pass the savings on to you with each flooring purchase that you make from our showroom. Save money on materials and reap the rewards of your labor with a visit to our warehouse-style flooring center, where you'll get what you want at a price that you can afford. Some of the finished and prefinished hardwood species that we have at our flooring warehouse include:
Acacia
Birch
Chinese Walnut
Hickory
Iteballi
Maple
Mora
Oak
Sapele
Exclusive Discounts on Name-Brand Hardwood
In addition to eco-friendly bamboo flooring, our flooring store offers renowned name-brand products, such as Shaw®, Mohawk®, and Armstrong® hardwood flooring. We carry an impressive variety of wood floors in a number of different grains, glosses, species, and variations to satisfy any flooring needs for any project. While our prices for solid hardwood floors are more affordable than those offered by the competition, we understand if they are still a bit out of your desired price range. Fortunately, you can still have the floors you want with our more cost-effective engineered hardwood flooring, which is even more affordable. Engineered wood floors are manufactured using multiple layers of materials that are made to withstand even the heaviest foot traffic. They also resist moisture and are available in many varieties that resemble multiple types of wood species.

We combine affordable prices with friendly services to deliver complete customer satisfaction, to ensure that you receive the help you need when you have any questions about our engineered hardwood floors. Our staff understands how challenging it can be to take on a new flooring project, so we strive to offer complete solutions that address any concerns you may have about your upcoming floor project. There's no reason to hesitate when you're ready to begin your interior renovation, so be sure to make time for a visit to our showroom to start browsing our inventory of affordably priced floors. With our help, you'll have the chance to add to the total worth of your property with a long-term investment in its style and appeal.
Our engineered and solid hardwood floors add beauty and warmth to every area of your living or working spaces with timeless durability that can't be beaten. Even after years of regular use, your floors can be refinished and made like new again. That way, you'll be able to enjoy the look of a new floor without having to make another financial investment or spending time to have your current floors removed and replaced. When you want a different color for your floor, you can simply refinish it in the stain of your choice. At our flooring store, we offer an extensive selection of options that are designed to cater to your preferences and budget. It's affordable to buy floors at our flooring center. With so many options, you are sure to find a product that suits your preferences and budget.
Our Complete Services Include Hardwood Flooring Installation
Another distinctive characteristic about our company is our friendly team. We take the time to listen to you and determine the best floor to suit your needs. You'll find that we are not like other flooring stores with pushy sales people. Instead, we actively help you choose a product that is perfect for your personal tastes and your budgetary goals. After guiding you to the floor style that meets all of your unique requirements, we gladly offer hardwood flooring installation to ensure the best fit for your new floor. Our experts will visit your home or business at a time that works best for your schedule to complete your project by installing your new floor in an efficient and timely manner. We also answer any questions that you may have regarding our flooring inventory to guarantee that you know exactly what to expect from your flooring for the future.
We go above and beyond to cater to your budgetary concerns to make sure that you're completely happy with your new purchase. If you're tired of your old floors, but you don't think you can afford new ones, think again! We proudly offer special financing and flooring discounts for our customers. By dividing up your investment over time, your flooring renovation becomes more affordable with manageable payments that work best for your financial situation.
Just when you think it can't get any better, it does! In addition to all of the features and benefits of our store and our products, we offer complete warranties on select floors. Buy with confidence when you depend on our flooring team. For instance, one of the hardwood flooring brands we sell, CIARA Premium Hardwood Collection, is backed by a 50-year residential warranty. Ask our floor specialists for details when you visit our showroom and we'll be happy to help you at every step of the flooring process.
---
Contact us or visit any one of our four locations for sophisticated discount hardwood flooring in Oklahoma, including Oklahoma City, Ardmore, Edmond, and Weatherford. We carry a variety of in-stock flooring as well.