Laminate Flooring in Oklahoma City, Ardmore, Edmond, & Weatherford, OK
If you're looking for an extremely durable flooring that matches your lifestyle, then look no further than our large selection of laminate flooring at The Floor Trader of Oklahoma City at our showrooms in Oklahoma City, Ardmore, Edmond, and Weatherford, OK. With our selection of strong and performative laminate flooring options, you're sure to find the perfect fit for your home that is tailored to match your active household.
As the ideal choice for any room in your home, laminate flooring is attractive, resilient, and versatile. If you want the look of tile or hardwood, but with the added durability of laminate, our showrooms have it for you thanks to the trusted brands we carry. We proudly carry the industry's top-quality brands including Mohawk, Armstrong, and more. Visit one of our showrooms today to meet with an in-store associate and begin viewing our laminate samples.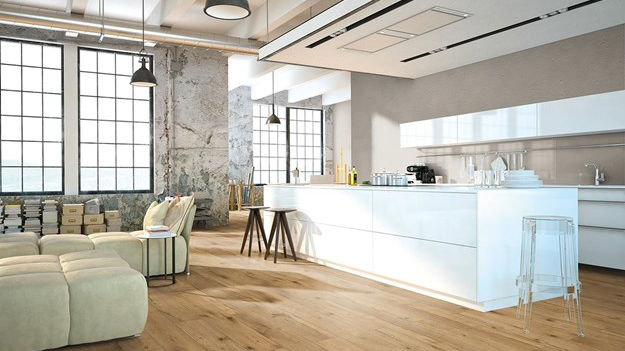 Laminate Flooring Styles
When you install new laminate floors, you're investing in your home and choosing a flooring type that will last for many years to come. Laminate flooring is scratch-resistant, moisture-resistant, and is able to withstand everyday wear and tear. Thanks to advanced production methods, laminate not only mimics the color and overall look of natural wood and stone, but it is also embossed and scraped to accurately reproduce graining and texture as well.
Laminate is made using one of two methods: direct-pressure or high-pressure. During the direct-pressured method, all four layers of the laminate are fused at once. The high-pressure method is similar, but the layers are fused individually and with higher amounts of weighted pressure and heat. This helps produce the most durable forms of laminate. Either method produces a truly beautiful flooring option that is available in a wide variety of colors, patterns, and styles. Learn more about the different types of laminate flooring that we offer:
Laminate Wood Flooring
Our laminate wood flooring offers the same beauty and traditional look as hardwood floors, but it is more durable and low-maintenance. Laminate wood flooring can look just like your favorite hardwood species such as mahogany and oak and this is because of the laminate's high-quality photogenic top layer. Laminate has layered construction with a clear coating on top that allows you to see the image of wood beneath. Behind this is a sturdy wear layer that stabilizes this flooring and a backing layer that resists moisture.
Laminate Tile Flooring
Stone and tile add richness to any living space. Laminate tile flooring replicates the highly desirable appearance of real stone flooring at a lesser cost. Our large selection of laminate resembles quarried stone, porcelain, ceramic, glass, and more. Select the floors that resemble your favorite stone or tile, and you'll receive a high-end look without enduring a high-end price.
Maintaining Your Laminate Floors
Laminate floors are easier to maintain than hardwood. While many other flooring types require refinishing and touch-ups, laminate requires very little of your time and energy. Simply keeping it clear of dirt and debris with the occasional sweeping and mopping is all you need to do to extend the look and lifetime of these beautiful floors. We recommend using a laminate cleaning product for the best results. We are more than happy to make a product recommendation that is suitable for your new laminate flooring.
Choose Professional Laminate Flooring Installation
Once you've picked out your new laminate flooring, make another great decision by working with us to schedule a professional flooring installation service from our list of preferred installers. You are in charge of selecting which of the professional installers from our list that you feel comfortable will meet the needs of both you and your project. The professional installers that we work with are experts in their field and have the tools and skills necessary to properly install laminate of every shape and size. Let us guarantee that your new floors will look and perform as intended. Don't stress over the hassle of a DIY installation when you can let an expert work around your schedule for a smooth process from start to finish. Your laminate flooring installation will be done correctly the first time when you rely on our list of flooring experts to install your laminate of choice.



Contact us to learn more about our laminate flooring options. We proudly serve customers in Oklahoma City, Edmond, Ardmore, Weatherford, OK, and the surrounding areas.