Laminate Flooring in Oklahoma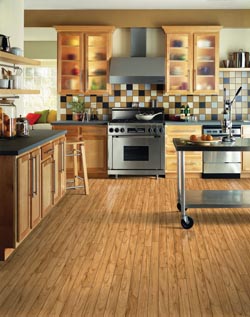 Browse an impressive variety of laminate flooring in Oklahoma, by coming to our flooring store. We have a vast quality of beautiful floors at affordable prices. Remodelers, small-business contractors, and interior designers reap the rewards of shopping our selection. At our warehouse showroom, we have an array of laminate flooring in multiple colors, styles, and variations. If you're looking for the look of tile, then we have laminate tile flooring that will mimic the look of ceramic or porcelain.
Beauty, durability, and value are just a few reasons why so many choose laminate flooring for their home or place of business. Time and again it proves to be an ideal solution to meet our customers' decorating demands without increasing their budgets or sacrificing quality. Furthermore, it's waterproof, scratchproof, stain resistant, and strong enough to use in any high-traffic areas. It can also be installed over virtually any existing floor.
Wholesale Laminate: Premium-Quality at Unbeatable Pricing
Save up to 70% off retail on the most renowned national brands including Mohawk, Mannington, and Shaw, as well as private labels. We achieve these savings because we keep a low overhead. How do we do it? We forgo showroom extras that usually increase the price you pay. All of our four flooring centers are neat, clean, organized, and easy to navigate -- so you find exactly what you need in no time.
Do you want a floor that emulates the look of wood, stone, or ceramic? Then choose laminate! Thanks to advancements in technology, it's nearly impossible to tell the difference between laminate tile or wood flooring and its other flooring counterparts.
Digital imaging allows manufacturers to produce a hi-resolution image that looks exactly like the real thing. This improved appearance will make your visions come to life. This means you'll stay below budget yet find beautiful flooring that suits your particular themes and décor.
Highly Resilient Laminate Flooring
In addition to mimicking premium hardwood, laminate carries other distinct advantages that all property owners appreciate. For example, it holds up under every the heaviest foot traffic. The resiliency this flooring provides is simply top-notch in maintaining quality even after years of wear and tear. This includes everything from dirt and water to UV light.
It takes a week or more for other types of flooring to acclimate to your home's climate. Laminate, on the other hand, takes about 48 hours to adequately adapt. This means you do not need to wait as long before installing. Best of all, you'll be walking around on your brand-new laminate tile flooring in no time after installation.
Durable & Affordable Laminate Flooring
Four distinct layers make up laminate flooring: bottom layer, wood core, photographic layer, and tread layer. Its structure makes it a great option for anyone looking for something visually pleasing, easy to clean, and resistant to scratches and stains.
Often, we see that heat and humidity wreak havoc on hardwood. When the temperature rises and moisture is present, the integrity of a wood floor is compromised. No matter how elegant wood looks in a bathroom or kitchen, moisture can ruin its appearance by warping it. The results are unsightly. When unfavorable conditions reign, laminate wood flooring is an ideal alternative to wood. It keeps its shape, color, and beauty in any environment.
How to Care for Your Laminate Floors
Get ready to enjoy beautiful floors for many years to come. A little maintenance goes a long way when caring for your wholesale laminate floors. A big benefit to laminate is how easy it is to care for. All you'll ever need is a mop, broom, water, and the occasional laminate-specific cleaning product to meet any on-going maintenance efforts. That's it!
With this in mind, we also strongly recommend that you clean any tracked-in dirt, smudges, or spills the moment you notice them. Doing so maintains your floor's appeal and extends the life of your laminate.
Laminate Installation: Easy, Fast, & Friendly
Let us make the installation job easy for you. Not only is laminate affordable, but it is also very easy to install if you have the right tools at your disposal. However, if you attempt the installation alone, it's important to read the instructions very carefully. Even if you've performed a laminate install in the past, different manufacturers require different procedures.
We recommend that you leave it to the pros. Our experts are available to produce outstanding results in virtually no time at all. Furthermore, if you have any questions, know that you can ask one of our experts for the solutions you seek. Our team is committed to delivering exceptional service from the moment you walk through our doors.
---
For the best prices in the region and the best floors, it pays to shop our extensive selection of laminate flooring. Explore our excellent selection in a wide variety of styles. Choose a floor that allows you to achieve a rich look you've always dreamed of having.