Luxury Vinyl in Oklahoma City, Ardmore, Edmond, & Weatherford, OK
When you are planning to upgrade your floor, trust The Floor Trader of Oklahoma City to provide you with the new floors you need. Our showrooms in Oklahoma City, Ardmore, Edmond, and Weatherford, OK, house a great number of flooring types, including beautiful luxury vinyl. Luxury vinyl gives you a cost-effective flooring solution that looks great in any room and provides resilience that is unmatched by any other flooring surface. This is why it is such a popular choice for home and business owners alike.
As part of The Floor Trader, we have access to the top luxury vinyl brands in the industry at unbeatable prices, such as:
Baroque

DynaGuard H2O

Ridgeland

US Floors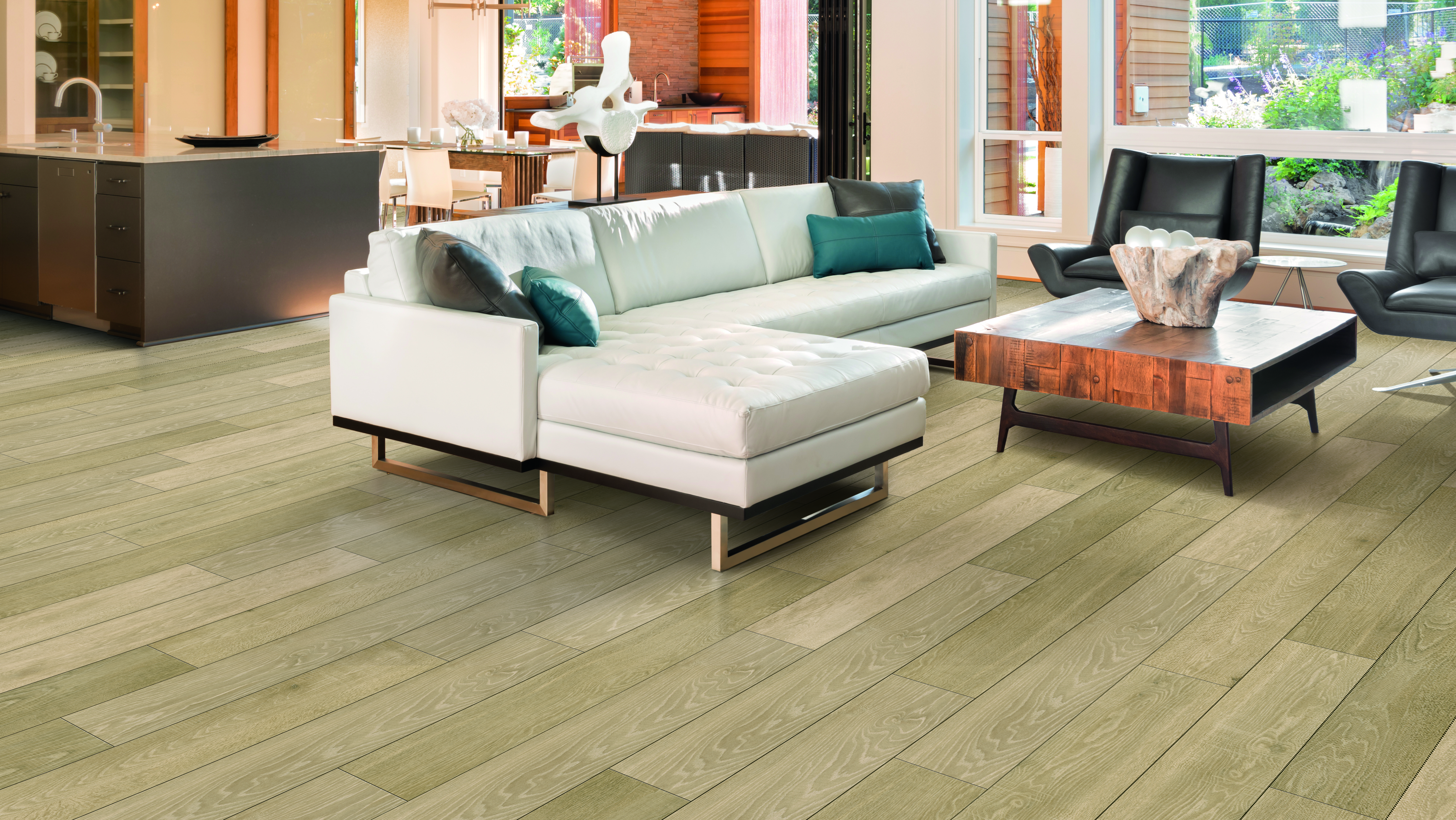 Types of Vinyl Flooring
All vinyl flooring is composed of the same four plastic layers. However, luxury vinyl flooring has a tougher wear layer that is more durable than traditional vinyl. Protected from stains and water damage, luxury vinyl floors make a great match to almost any room in the home, including your below-grade level basements and laundry rooms. Thanks to the latest developments in flooring technology, vinyl flooring has come a long way since the sheet vinyl. Luxury vinyl floors can now perfectly replicate popular flooring choices like genuine hardwood and ceramic tile and are now available in a wide range of wood-look planks and tiles.
Luxury Vinyl Plank
Luxury vinyl plank (LVP) is one of our most popular products. It is the ideal flooring for homeowners that enjoy a hardwood floor but want more comfort and longevity. LVP has a softer feeling underfoot and can tolerate spills, heat, and foot traffic that can cause natural wood floors to warp. The top layer of LVP is made using advanced photographic technology, resulting in a beautiful decorative layer that has authentic-looking grain patterns. Our LVP inventory contains everything from luxurious mahogany to the soft tones of birch and oak.
Luxury Vinyl Tile
Luxury vinyl tile (LVT) adds a touch of charm to any room. When it comes to new floors, LVT offers many options for both residential and commercial spaces. Replicate the look of ceramic or porcelain with this comfy alternative, which is ideal for bathrooms, kitchens, and other high-moisture areas. Our LVT is made with an uncanny tile appearance that has depth and textures to convince even the most observant visitors. Easier to install than true ceramic or porcelain, grouting is not required for LVT. While many people choose this choice for a porcelain, ceramic, or marble look, wood-look LVT is also available.
Where Can Luxury Vinyl Be Installed?
Luxury vinyl flooring is one of the most convenient types of flooring and can be installed in any room, including below-grade spaces. All of our vinyl brands are wholly waterproof, making luxury vinyl an excellent option for moisture-prone areas like kitchens, bathrooms, and basements. With our beautiful collection of luxury vinyl, you can now install wood-look flooring in high-traffic areas of the home without having to worry about water damage or stains.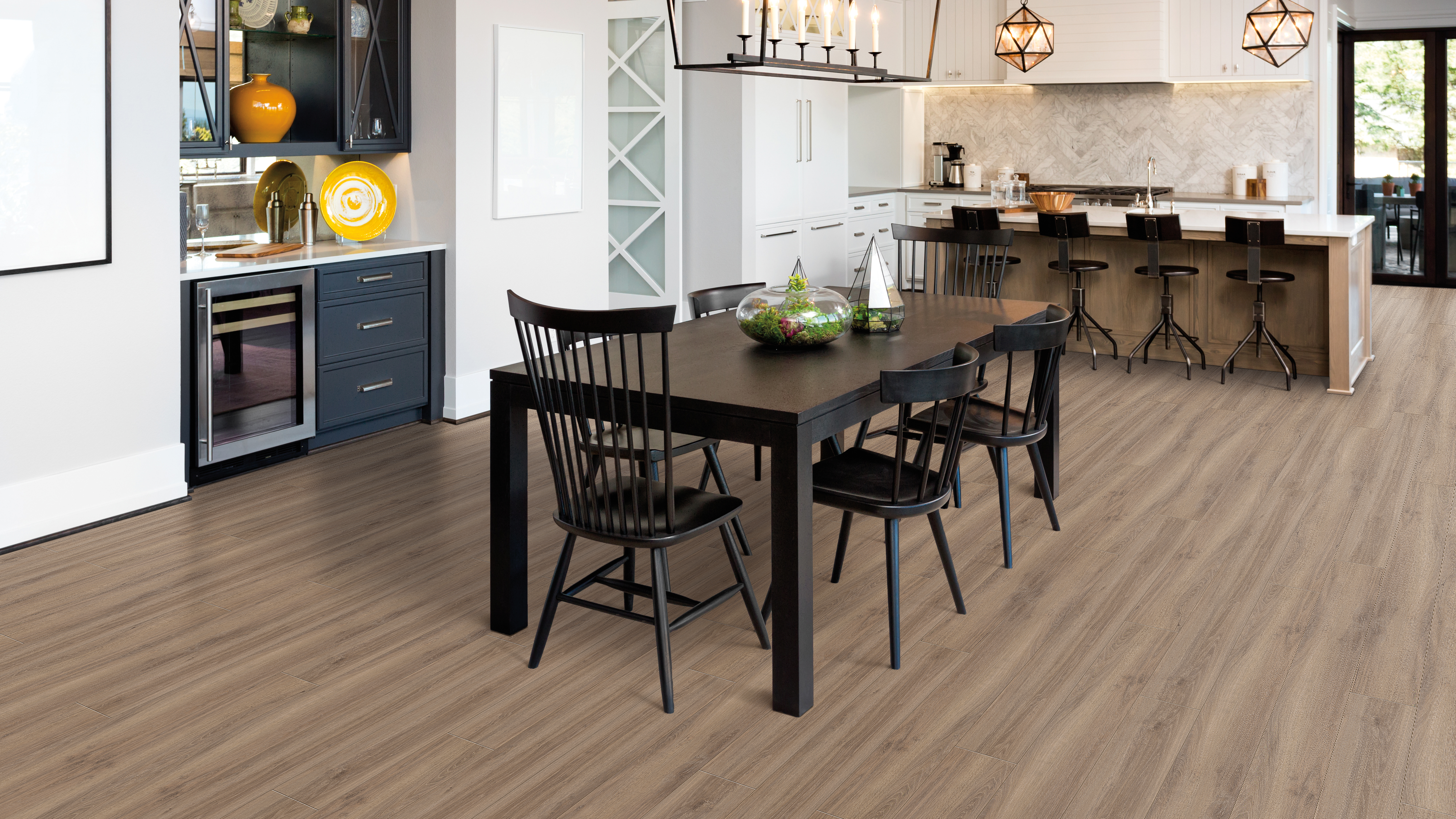 The Ease of Luxury Vinyl
Our luxury vinyl flooring is strong enough to withstand a great deal of wear and tear, making it the perfect flooring choice for active families with pets and children. Luxury vinyl is a waterproof flooring solution that can resist high-moisture environments like bathrooms and laundry rooms. Spills and liquids are no match for luxury vinyl, which makes for a no-stress cleaning. Regular cleaning can be performed by vacuuming, mopping, or sweeping weekly. Before using a cleaning product that may contain harsh chemicals that could damage your new luxury vinyl floors, we recommend reviewing your new floor's warranty.
Professional Installation Services
As our customer, you can choose from our list of preferred installers. Our trusted contractors are experienced professionals that you can trust for luxury vinyl flooring installation that's done correctly and efficiently. You'll receive a quote in writing with no hidden fees or charges from our preferred technicians. With professional installation, your luxury vinyl flooring will look and perform at its very best. When it comes to luxury vinyl, our showrooms are the ones to choose from. We are committed to your complete satisfaction. We are here to help you find the right flooring material to meet your needs from start to finish.


Contact us to learn more about our discount hardwood flooring options. We proudly serve the Oklahoma City, Ardmore, Edmond, and Weatherford, OK, communities as well as the surrounding area.