Upgrade Your Home with Luxury Vinyl Flooring in Edmond, OK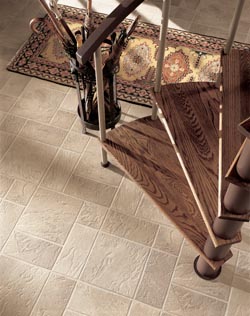 When you are planning an upgrade for your home, trust Floor Trader of Edmond to provide you with the new floors you need. Our showroom houses a number of great flooring types, including beautiful luxury vinyl flooring in Edmond, OK.
With luxury vinyl, you get a cost-effective flooring solution that looks great in any room and provides a resilience that is unmatched by other surface options. This is why it is such a popular choice for home and business owners alike.
Unrivaled Resilience
If you are looking for a flooring solution that is easy to maintain and provides superior protection against moisture and damage, then luxury vinyl is the right choice. This resilient flooring option is easy to clean, with many spills and messes wiping away quickly with a cloth or mop. Vinyl is also hard to stain, meaning it will keep its appearance even after multiple spills and messes.
Furthermore, luxury vinyl provides excellent water resistance. This makes it an attractive option for moisture-heavy laundry rooms and bathrooms. This moisture protection also helps prevent water from getting under the flooring, which helps to keep mold or mildew from forming in your property.
Natural Looks
Do you want the majestic look of natural stone? How about the timeless and warm appearance of wood? With luxury vinyl tiles or planks, you can have either of these appearances along with many others.
Vinyl tiles are designed to mimic the appearance of natural stone and ceramic tiles. By using vinyl tiles, you also get the extra resilience that vinyl is known for. Additionally, vinyl is softer to walk on than tile or hardwood, making it more comfortable for you and your family.
Speaking of hardwood, if you want the beauty of a wood-grain finish without the cost or maintenance required, vinyl planks are the way to go. Designed to look like real wood, luxury vinyl plank flooring is a cost-effective alternative to hardwood. Luxury vinyl is also considerably easier to maintain and does not require unique finishes or polishes to look amazing.
Complete Installations
After you choose a flooring solution for your property, let our team take care of the installation. We have experience handling all the floors we offer and will ensure that your new surface looks great in your rooms. Additionally, by letting our team take care of your luxury vinyl tile installation, you have peace of mind that your new surface fits perfectly into your home and that it will last for years.
---
Contact us when you are looking for a beautiful and resilient flooring solution for your property. We proudly serve Edmond, OK, and the surrounding areas.