Browse Beautiful Luxury Vinyl Flooring in Ardmore, OK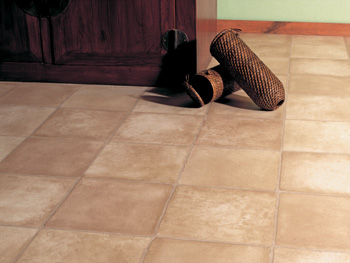 When you're looking for a new choice of flooring, it's imperative to choose a material that offers an astounding look and will function well in your chosen space. Coveted by shoppers of nearly all tastes and preferences, vinyl flooring is one of the most widely preferred flooring materials available today. Local homeowners looking for luxury vinyl flooring in Ardmore, OK, know to turn to Floor Trader of Ardmore when they want to make a quality home investment.
At our fully stocked showroom, we proudly carry a vast assortment of luxury vinyl tile and other vinyl selections that offer exceptional appeal and longevity. Our choices come in a wide variety of colors, patterns, and styles. As a result, shoppers should have no trouble finding the right resilient flooring to fit their home remodeling projects. Whatever your taste or preference, we're confident that the right resilient flooring choice that will speak to your vision is waiting for you just inside our doors.
Give Classic Looks to Unconventional Spaces
Due to its unique composition, our luxury vinyl tile and luxury vinyl plank flooring can be crafted to offer the look of natural stone and hardwood flooring respectively with remarkable realism. When you choose any of our luxury vinyl floors, you can fit your space with the unique appeal of convincing-looking stone or wood flooring in places that typically aren't well-suited for either. Best of all, you'll reinvigorate your home with resilient flooring that offers a highly desirable look at only a fraction of their real counterparts.
Seeing Your Remodeling Project Through to the End
Are you unsure which of our luxury vinyl flooring materials would work best with your remodeling project? Share your aspirations for your interior atmosphere with our knowledgeable team members, and we'll gladly help find a vinyl flooring selection that satisfies your aesthetic preferences and performance requirements. Once you're satisfied with your choice, we'll pair you with one of our highly recommended luxury vinyl tile installation teams to ensure your new flooring is laid perfectly into place.
To maximize your property investment, trust our skilled associates to handle your flooring installation. We're highly confident in the abilities of our recommended installations crews. Rest assured, the installation team will make a concerted effort to leave you with a new flooring surface that will impress each time you lay eyes on it. With our specialists at your side from start to finish, you'll be able to enjoy your new floors even sooner than you anticipated.
---
Contact our showroom to fit your space with remarkably resilient luxury vinyl flooring. We proudly serve property owners in Ardmore, Oklahoma, and the surrounding areas.