Choose Our Luxury Vinyl Plank in Ardmore, OK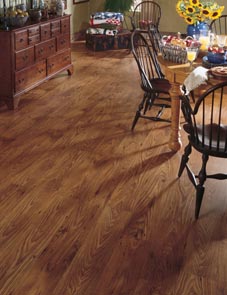 Few home remodeling options have as much transformative power as fitting your interior space with new flooring.. Opting for a new surface underfoot can work wonders for your indoor atmosphere. If you're longing for an all-new interior addition that's equally attractive and functional, choose a new material that will look beautiful and will continue to perform reliably throughout the years.
Regarded by shoppers of all tastes and preferences as one of the most versatile flooring choices available today, luxury vinyl flooring is a durable, cost-effective material for almost any space. When you visit The Floor Trader, you'll find an impressive selection of luxury vinyl plank in Ardmore, OK, and other hard surface flooring choices that are sure to serve you well in nearly any interior setting.
Enjoy Resilient Floors That Mimic Other Materials
Our luxury vinyl planks are available in a diverse range of colors, patterns, and styles. Notably, our plank flooring, sometimes called an LVP floor can be fabricated to mimic the look of solid hardwood with stunning realism. We understand that seeing and feeling our options in person can make a world of difference in helping eager shoppers make their purchases. That's why we encourage you to visit our fully stocked showroom to find the right LVP floor for your project. Our knowledgeable team members are always available, ready to answer any questions you may have about a particular luxury vinyl plank floor or another flooring option.
Opt for a Classic Look in an Unconventional Space
Thanks to the resilient nature of our luxury vinyl planks, even areas of the home that aren't traditionally well suited for hardwood flooring can adorn a classic look. When you choose this unique flooring material, moisture-prone spaces such as bathrooms and kitchens can embrace the highly desirable look and feel of cherry, mahogany, and oak. Best of all, homeowners who long to augment their space with the enviable appeal of solid hardwood can enjoy this budget-friendly alternative at only a fraction of the cost.
Your Trusted Team for Luxury Vinyl Plank Floor Installation
Since an LVP floor can be placed almost anywhere in the home, the installation process is quite simple. Vinyl is water-resistant, meaning it's an ideal selection for the bathroom, basement or kitchen. At your request, we will gladly coordinate you with one of our recommended installation crews who will place your new floor covering perfectly. Rest assured that when you trust our capable associates with your luxury vinyl flooring installation needs, you'll enjoy a flooring solution that you'll continue to admire year after year.
---
Contact our showroom to learn more about our vast selection of vinyl plank flooring. We proudly serve commercial and residential clients in Ardmore, Oklahoma, and the surrounding areas.