Luxury Vinyl Plank in Oklahoma City, OK, Made Affordable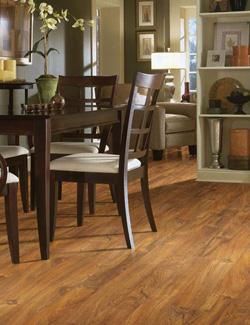 Enjoying the industry's finest flooring shouldn't take a huge chunk out of your savings. At the Floor Trader of Oklahoma City, we believe that quality and affordability go hand-in-hand. In fact, we see savings as part of the larger picture--one that paints a portrait of long-term value in a beautiful, comfortable home.
The backdrop for that future? Our luxury vinyl plank in Oklahoma City, OK. This versatile material allows you to enjoy the look of natural materials like wood and stone without the traditionally hefty price tag. Plus, it's easy to maintain, and available in a wide range of textures and colors when you visit our showroom.
Why Choose Vinyl?
While natural wood planks excel at setting your space apart, they have their limits. Moisture, heavy traffic, and burdensome upkeep make them less than ideal for many homeowners, and even entirely unsuitable for some spaces, like bathrooms. Conversely, our vinyl installs easily almost anywhere in your home, delivering a similar look and expanding your design freedom.
That's not the only reason to opt for a luxury vinyl plank floor. When correctly installed, our LVP surfaces are:
Waterproof
Easy to Clean
More Insulated & Soundproofed than Sheet Vinyl & Laminate
Capable of Fitting into Complex Spaces
Softer Underfoot than Many Hard Surfaces
Make the Most of Your Floors
Precision manufacturing goes a long way toward a quality floor. You'll certainly find some of today's top brands in our inventory, where you can also choose from a vast array of photorealistic surfaces that immaculately replicate the look of various wood types. That's not what truly sets us apart, though.
Instead, it's our service that, combined with our selection, makes us the definitive destination for luxury vinyl planks. In our showroom, you'll find support from seasoned experts in the flooring industry who can help you locate, compare, and choose the right products for your project. That means less guesswork and better results every time you shop with us.
We believe that tailoring our in-store experience to each person who comes through our doors gives us an edge when it comes to providing consumer value. You won't just find great flooring solutions with us. From installation tips to care and maintenance advice, we supply everything you need to have the surfaces of your dreams--not just today, but every day. Even if you've never bought flooring directly before, you can browse with confidence knowing that our team is always on your side.
---
Contact us to get the ease and beauty of luxury vinyl for your space. We proudly serve Oklahoma City, OK, and the surrounding areas.