Your Source for Tile Flooring in Ardmore, OK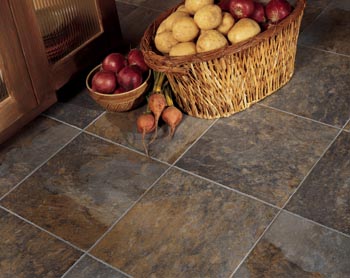 You don't have to settle for the same old floors in your home. Transform any room in your home with durable, stylish tile flooring in Ardmore, OK. Introducing an eye-capturing look that nearly anyone would love have in their space is affordable, easy, and above all, fun when you visit our fully stocked showroom at The Floor Trader of Ardmore.
At our expansive showroom, we proudly feature an extensive selection of exceptional tile floors that offer eye-capturing appeal. From ceramic tile to porcelain tile and every tile floor in between, you'll find a wide variety of decorative options when you shop with us. With choices from names like Ciara™, Dyna-Flex, and Landmark™, you'll find no shortage of high-quality flooring.
Offering Tiles for Different Spaces
Renew your interior design with the breathtaking elegance of our ceramic tile options. Ceramic tile is preferred by many because it opens up a world of interior design possibilities. In addition, its remarkable durability makes it a respectable choice for any space that experiences regular foot traffic.
Alternatively, you are free to fit your space with the timeless beauty of our gorgeous porcelain floors. Our porcelain options are sure to serve you well, even in rooms that experience heavy foot traffic and moisture. Best of all, porcelain is easy to clean and will retain its showroom ready look with regular maintenance. If you 're looking for a material that easily resists fading, scratches, and other signs of wear, consider our porcelain tile flooring selections for your remodeling effort.
Augment your space with the captivating look of beautiful slate tiles. Preferred by homeowner and business owners alike, slate tile offers a rustic look and texture that few other flooring choices rival. A metamorphic stone formed due to an amalgamation of several of minerals, the appearance of our slate tiles can vary significantly. Given their unique composition, all of our tile flooring options are available in a wide variety of color and texture options.
With so many different color and patterns combinations to choose from, finding the ideal product for your décor may be more difficult than you think. Fortunately, our knowledgeable specialists are always on hand, ready to help you move forward with your remodeling project.
Trust Our Preferred Installers with Your Tile Floor Installation
Maximize your property investment by trusting our skilled associates to handle your tile flooring installation. We're certain of our associates' installation abilities. Rest assured, our recommended installation crew will see to it that you receive a new flooring surface that continues to impress and perform exactly as you expect. With our specialists at your side from start to finish, you'll be able to enjoy your new water-resistant floors even sooner than you thought possible.
---
Contact to learn more about our vast selection of tile flooring options. We proudly serve homeowners in Ardmore, Oklahoma, and the surrounding areas.