Tile Flooring in Edmond, OK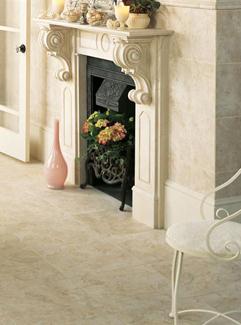 If you're looking for the perfect flooring that fits into any space in your home, look no further than our selection of tile flooring in Edmond, OK. Thanks to its moisture-resistant and durable design, tile is perfect for any room in the home, including bathrooms, kitchens, laundry rooms, and any other space that sees a lot of water usage. Floor Trader of Edmond is committed to offering residents throughout the area the chance to find the tile that perfectly complements their style and budget. With the wide variety of options, we have available at our showroom, you are sure to find just what you're looking for.
Our team is proud of the wide variety of gorgeous flooring options available at our showroom. Both business and homeowners alike flock to our location for porcelain, slate, and ceramic tiles, thanks to the emphasis we place on quality. Our materials are sourced from only the finest manufacturers, and our network of installation contractors is comprised of only the most experienced installers in the area. With help from our team and our network of contractors, you are sure to get the flooring of your dreams.
From Slate to Ceramic to Porcelain
With so many options available to you, it can be overwhelming to start looking for the ideal type of flooring for your needs. Fortunately, our team of flooring experts and designers is here to walk you through all of your options. With us on your side, you'll have the knowledge you need to make an informed decision. Porcelain tile has an elegant look that is great for both formal and casual looks. Easy to maintain and beautiful to behold, porcelain is ideal for those wanting to class up their homes.
Ceramic, on the other hand, has a timeless look that is perfect for kitchens and bathrooms. More durable than porcelain, ceramic is ideal for those rooms of the home that might see foot traffic, spills, scratches, or drops.
Slate tile is a bit different from our other tile options but no less beautiful. Slate is designed to perfectly mimic the look of stone, making it the perfect choice for outdoor patios or even wall features. Slate can open up options you never thought possible.
Quality Installation is Key
We want you to get the most out of your tile. The best way to do so is by partnering with a member of our contractor network for high-quality tile flooring installation. You'll not only get beautiful new floors, but they'll also last for years to come due to the quality of the installation.
---
Call us today to find out more about the benefits of tile. We are proud to serve Edmond, Oklahoma, and the surrounding area.