Tile Flooring in Oklahoma City, Ardmore, Edmond, & Weatherford, OK
When you're thinking about updating your flooring, consider tile flooring for your home or business. Tile is timeless and makes it simple to upgrade your home's interior. At The Floor Trader of Oklahoma City, we offer a wide selection of tile flooring with everything from ceramic and porcelain tile to innovative wood-look tile.
Our locally owned stores in Oklahoma City, Ardmore, Edmond, and Weatherford, Oklahoma, offer homeowners and contractors alike a great venue for flooring shopping. We provide you with discount prices, a large inventory of in-stock flooring, and the assistance of experts. Come into our store and our friendly and knowledgeable flooring experts can help guide you through the tile floor types and brands that are ready for purchase and installation. We are proud to carry the brand names you know and love, such as Shaw, Mohawk, and more.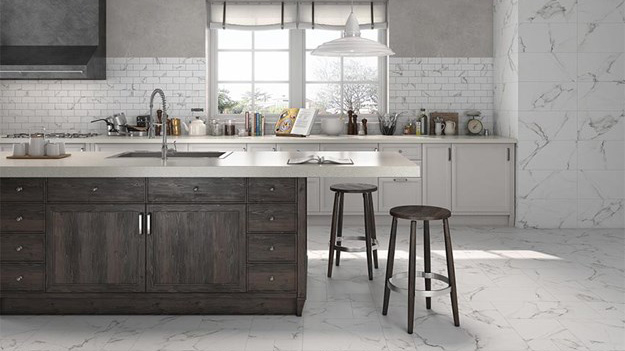 Classic & Durable Ceramic Tile
Ceramic tile is available in many different styles and is the ideal tile choice if you are looking for a low-maintenance floor. Ceramic tile is cost-effective and offers many benefits. This tile has an elegant appeal that provides a beautiful setting for any space. Ceramic tiles are crafted from a combination of natural clay, water, and minerals that are hardened by a kiln-fired and coated with a protective glaze that makes for a very strong end product. These types of tiles are the ideal choice for areas of a home or business that have a large amount of foot traffic. While most ceramic tiles offer a glossy and glazed finish, non-glazed tile flooring contains a pattern on the surface that helps prevent slippage underfoot.
Beautiful Porcelain Tile
Porcelain is tough and durable, as well as easy to keep clean and maintain. Like ceramic, porcelain is created using kiln-fired clay but it is left to heat for a longer period of time. This results in a denser, more durable final product. We have many different types of porcelain available in a wide array of colors, shapes, patterns, and sizes. These tiles are resistant to stains, scratching, and cracking, which make them great for high-traffic areas.
Stunning & Earthy Stone Tile
If you're looking to add a more rustic or natural look to your home, look no further than our selection of stone tiles. Our stone tiles are made from raw materials such as slate, granite, travertine, and marble. This natural tile may cost a bit more than other tile flooring options, but that is because it is quarried from the earth, not man-made. Being made from stone, it is a heavy flooring solution that needs professional installation.
High-Quality Wood-Look Tile
Wood plank ceramic tile is a great choice if you are looking to achieve the premium look of natural hardwood flooring without having to sacrifice the durability of tile. This is especially true for moisture-prone rooms, such as the bathroom and kitchen. When wood-look tile comes into contact with moisture or water, it does not contract and warp. This type of tile is also easier to clean and maintain compared to other flooring options. Wood-look tile comes in the appearance of well-known wood species such as oak, pine, mahogany, and more. With its solid surface, wood-look tile repels dirt, water, dust, and other stains.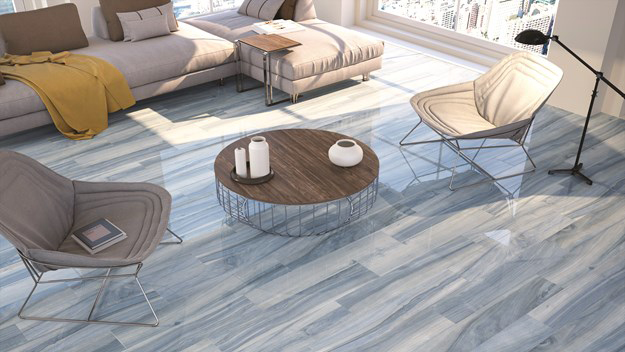 Low-Maintenance Tile Flooring
Tile flooring is much easier to care for than some other flooring types such as carpet or hardwood. With proper care and maintenance, tile flooring will look fresh for many years to come. Sweeping and vacuuming are recommended regularly to help keep your new floor clean. Any excess dirt, soils, and debris may be removed with a weekly damp mop. When choosing a cleaning product, keep in mind whether your tile is glazed or unglazed, as each type requires a different kind of cleaning solution. Before purchasing and using cleaning products, make sure to check your new tile flooring's warranty.
Professional Tile Flooring Installation
While tile flooring offers ease of installation, it is important to make sure your new tile flooring gets installed correctly with precision to detail. Contact us before installation and we can provide you with a list of professional, well-recommended tile installers. Our network of professional installers has a proven track record of expertise and will ensure that your new tile flooring gets installed correctly the first time. As a Floor Trader customer, you have the option to get several quotes before making an informed decision.


Contact us today to learn more about our tile flooring selection. We proudly serve customers throughout the Oklahoma City metropolitan area with locations in Oklahoma City, Ardmore, Edmond, and Weatherford, OK.