The Finest Vinyl Flooring in Edmond, OK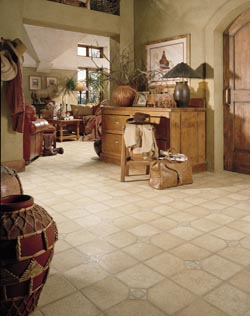 Experience the lasting quality and sleek, modern look of vinyl for yourself by visiting our expansive flooring showroom. Vinyl is the ideal choice for homeowners who want an affordable, stylish, and easily maintained flooring type that fits into any room. Floor Trader of Edmond offers the finest selection of vinyl flooring in Edmond, OK, in order to ensure you get your dream floors. Our team is on your side throughout every step of the process, helping you find the right floors and get the quality installation you deserve.
Regardless of what you're looking for in terms of vinyl tile flooring, we can help you find it. Whether you're still in the first design phases or you've fully decided and are ready to proceed, we can help. Sit down with a member of our team today to go over all your needs. We'll help you decide on the perfect flooring for your need, even helping you with the design phase if needed. Our design experts are more than happy to help.
Durability Meets Beauty
If you have a busy household, it is important to have durable flooring that can hold up to the punishment of a modern home. That is where vinyl sheet flooring comes in. Vinyl is among the most lasting types of flooring on the market, capable of holding up to heavy foot traffic, drops and skills, and even scratches for years without ever showing its age. On top of that, it is absolutely stunning to look at. Why compromise in terms of either durability or beauty when you can have both?
Vinyl plank flooring comes in a wide variety of designs, allowing you unlimited options in terms of design. Vinyl has the unique ability to mimic other types of flooring, from wood to tile. This gives you all the benefits of vinyl combined with any look you could possibly want.
Quality Installation for Flooring that Lasts
No matter the quality of the flooring you buy, it simply won't stand the test of time if it is improperly installed. In order to ensure that your new vinyl floors are expertly installed, talk to us about our network of professional installers. We partner with contractors throughout the area who are skilled and experienced in vinyl flooring installation. Get the peace of mind that comes with knowing your new floors are in good hands.
---
Contact us today to find the perfect vinyl floors for your needs. We are proud to serve Edmond, Oklahoma, and the surrounding area.