Your Source for Vinyl Flooring in Weatherford, OK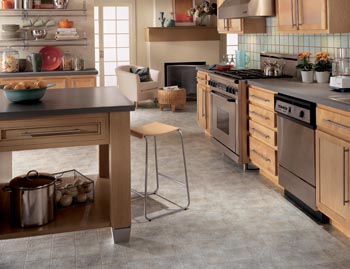 Nothing beats the long-lasting beauty of vinyl. It is the perfect option for home and business owners who are looking for a type of flooring that is beautiful, easy to maintain, and durable all at the same time. Floor Trader of Weatherford is the name to trust for the finest selection of vinyl flooring in Weatherford, OK. Our goal is to supply you with the options you need to find your dream floors. Let us help you through every step of the process, from guiding you through the design process to ensuring you get the right contractor for installation.
No matter what style you're looking for when you come to us for vinyl tile flooring, we can help you find it. Whether you've decided on the exact color and style you want or you're just beginning to shop around, our team is here to give you advice in any way we can. Simply sit down and talk with a member of our team today to begin the process of finding the perfect flooring. We are here to help you decide on the perfect flooring based on your lifestyle needs, design tastes, and current home aesthetic.
Both Durable & Beautiful
For those with a busy household, it is essential to have a durable type of flooring that can take the heavy amount of foot traffic you throw at it. Vinyl sheet flooring is the ideal choice for those who need a long lasting flooring type that doesn't sacrifice beauty. It is capable of resisting spills and splashes while holding up to potential dings and scratches with ease. It does all of this while looking as beautiful as the day you got it for years down the road.
Get the Right Team for Installation
Vinyl sheet and vinyl plank flooring might be a durable and long-lasting material, but if installed incorrectly, it simply won't stand the test of time. That is why we are devoted to ensuring you get a contractor you can trust to get the job done. We partner with a network of seasoned and trusted flooring contractors in the area, taking the burden and stress of finding one you can depend on off your shoulders. Our network of contractors makes vinyl flooring installation quick and easy for you, ensuring you get the long-lasting, beautiful floors you deserve.
---
Call us today to find out more about the benefits of vinyl. We are proud to serve Weatherford, OK, and the surrounding area.