Waterproof Floors in Edmond, OK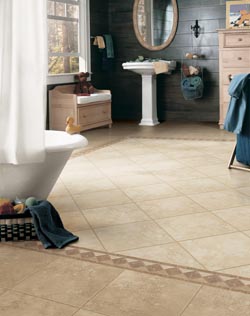 At Floor Trader, you'll find the best selection of waterproof floors in Edmond, OK. Our fully stocked showroom features a wide variety of durable, easy-to-clean flooring. Property owners prefer to shop with us because of our unbeatable selection and commitment to superior customer service.
The waterproof flooring we offer comes in a variety of colors and textures to satisfy any interior design preferences. Talk to our friendly associates about the waterproof options available from Resista, Tigressa H2O, and other respected, industry-leading brand names.
Durable Waterproof Luxury Vinyl Planks
Like other styles of luxury vinyl tile, our waterproof planks are cost-effective imitations of gorgeous hardwood. But these products have the added durability and resiliency of advanced waterproofing technology.
Waterproof planks involve several layers. At the top, the wear layer is a stain-resistant, hypoallergenic surface. Underneath the wear layer, a high-resolution photo gives the appearance of authentic wood. Next, the waterproofing layer provides reliable protection. Beneath the waterproofing, the cork underlayment enhances the product's comfort and ease of installation.
These breakthroughs in vinyl flooring are making waterproof planks an increasingly popular solution among discerning homeowners who want eye-catching, durable flooring.
Water-Resistant Vinyl Flooring for Active Households
Besides its availability in a variety of styles and colors, vinyl is perfect for your home's high-traffic rooms. Whether you choose vinyl planks or tiles, you receive the genuine look of premium flooring that won't scuff, stain, or scrape.
Waterproof vinyl is remarkably well-suited for busy homeowners who want convenient, low-maintenance flooring without sacrificing appearance. These products are the easy way to pet-proof and kid-proof your home's flooring. Additionally, vinyl is resistant to mildew and mold, so it works well in the kitchen, bathroom, and every other room in your house.
Your Source for Water-Resistant Carpet
Maybe you are looking for water-resistant flooring, but carpet has always been a favorite. Our store has the products for you. Select styles of our soft, comfortable carpet come with waterproofing capabilities, and you can enjoy the timeless look of carpet without worrying about spilled liquids soaking into the fibers and damaging the subfloor.
The waterproof carpeting options at our showroom make accidents easy to clean, and they prevent fibers from retaining stains or odors. Whatever flooring style you need for your project, you'll find at our expansive showroom. Between our attractive waterproof flooring options and professional installation service, we've got everything you need for a successful home improvement project.
---
Contact us when it's time to redo your floors. We proudly serve customers at our showroom in Edmond, Oklahoma.