Stop Fearing Spills and Stains with Waterproof Floors in Ardmore, OK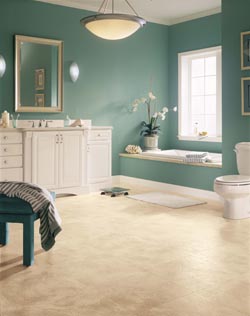 If your household is filled with occupants that are always on the move, spills and stains are virtually a daily casualty. With bumps and stumbles from active children and accidents from pets, your flooring is bound to take a hit on occasion. When life's challenges present themselves, your floors shouldn't bear the mark of the accident as a reminder. Fit your space with waterproof floors in Ardmore, OK, to ensure you'll always be ready for whatever the day brings.
At Floor Trader of Ardmore, you'll find a vast array of water-resistant vinyl flooring, and other treated materials that can quickly rebound from effects of problematic moisture and messes. As homeowners ourselves, our specialists are keenly aware of the degree to which the concern for children and pets affects major home remodeling decisions. That's why we proudly offer an impressive arrangement of waterproof flooring options that can protect your subflooring from facing costly damages. There's an abundance of exceptional choices designed to make messes more manageable at our flooring store.
Water-Resistant Floors Opens a World of Design Possibilities
Opting for waterproof floors that are as stylish as they are durable offers a world of interior design possibilities. With our flooring options, homeowners can maintain a clean floor covering and reduce the damaging effects that spills can have on traditional flooring. They are even capable of dispelling mild odors, making them an excellent choice for homeowners who have to consider their four-legged family members as well.
Best of all, our water-resistant carpet and vinyl flooring can be reinstalled and reused should they get wet. More so, our waterproof carpet choices don't need extensive cleaning to keep their showroom ready appearance. Instead, they only need to be vacuumed regularly, while our vinyl floors can be cleaning quickly with a brief mopping and sweeping. No matter what your preference, our selections are candidate materials for your bathroom, kitchen, laundry room, or any other space and are sure to serve you well throughout the years.
Ensure Your Waterproof Floors Get Placed Perfectly
Maximize your property investment by trusting our skilled associates to handle your water-resistant flooring installation. We're highly confident in the abilities of our recommended installations crews. Rest assured, our partnering installation team will make a concerted effort to leave you with a new flooring surface that continues to impress each time you lay eyes on it and perform when duty calls. With our specialists at your side from start to finish, you'll be able to enjoy your new water-resistant floors even sooner than you thought possible.
---
Contact our showroom to learn more about our impressive selection of waterproof flooring. We proudly serve homeowners in Ardmore, Oklahoma, and the surrounding areas.