Shop Our Selection of Waterproof Floors in Weatherford, OK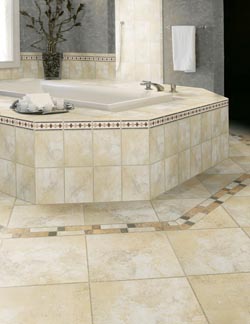 Water sloshing over the rim of the bathtub. Dropped drinks at dinner. A leaking dishwasher or washing machine. With how much we use water in our daily lives, it's impossible to prevent all splashes, spills, and other accidents. You can, however, safeguard your home by choosing a waterproof or water-resistant floor.
At the Floor Trader of Weatherford, we're pleased to offer a wide selection of surfaces specially designed to prevent liquids from seeping in. Visit our store today to explore one of the biggest collections of waterproof floors in Weatherford, OK. You're sure to love the stylish surfaces we sell, as well as the peace of mind you enjoy once these floors are installed in your rooms.
Why Go Waterproof?
As essential as water may be, there are some places it doesn't belong -- like your subflooring. The easiest way to avoid mold and prevent water damage to your subflooring is to select a surface that blocks moisture.
Water-resistant and waterproof flooring come in a diverse array of styles, from luxury vinyl to carpeting. These surfaces are carefully manufactured from top to bottom to stop water and other liquids from leaking through. The carpets, for example, have a special backing. Some floor styles can even mitigate damage from flooding. Talk to our team to learn more about how these floors are made and find the style with the right level of protection for your property. If a major accident ever occurs in your home, you'll be glad you choose waterproof.
Other Benefits of Waterproof Surfaces
In addition to protecting your property, water-resistant flooring installation also comes with other advantages. For example, these surfaces are typically very easy to clean and maintain. Likewise, they are stain resistant. That means when life gets messy, you can stress less. Homeowners with young children or pets can especially benefit from these floors stain-fighting, moisture-blocking abilities.
People also love that waterproof luxury vinyl planks and similar styles can be installed all throughout the home. Some of the best places for these surfaces are kitchens, bathrooms, laundry rooms, and entryways, but they also look great in living rooms, bedrooms, and more.
Discover the ideal flooring for your needs by requesting a recommendation from our staff. We're happy to point you towards the products that best suit your stylistic preferences, performance expectations, and price range. Stop by our store today to get the advice you need to make the most of your home improvement.
---
Contact us if you have any questions about our waterproof and water-resistant flooring collection. We proudly serve clients from throughout Weatherford, Oklahoma, and the surrounding areas.