Gorgeous Wood Look Tile in Weatherford, OK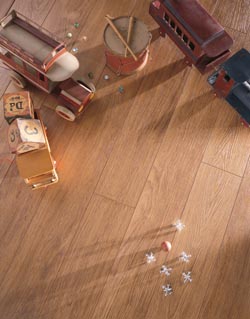 Everyone wants to have the elegant beauty of wood flooring in their homes. However, the material itself is not always right for every situation or every room. When you want the look of wood with the benefits of tile, check out our selection of wood look tile in Weatherford, OK. Floor Trader of Weatherford is the name to call since we offer an unbeatable selection. Regardless of what you're looking for, our showroom has a variety of options that are sure to contain what you need. We are the name locals trust for flooring.
With the latest advances in manufacturing technology, wood plank porcelain tile can be made to look identical to a wide variety of wood. Right down to the grain of the "wood" and knots from the "tree" it came from, the tile we offer is indistinguishable from natural wood. Your guests won't even be able to tell the difference unless they get down on the ground and touch the tile themselves. Whether you are looking for darker types of wood or bright, vibrant ones, tile can now be made to suit. We'll help you find the perfect wood plank ceramic tile for your needs.
The Perfect Choice for Kitchens & Bathrooms
We all want the chance to spruce up our bathrooms and kitchens. However it can be hard to find the perfect look due to the limitations of many types of floorings. With all the water we use in those spaces and the higher chance of spills and drops, there are only a few materials that can hold up. That is where ceramic wood tile comes in. With all the durability and water resistance of tile and the beauty and versatility of wood, this is the flooring option is the ideal choice when you are looking to renovate kitchens or bathrooms.
The Resources You Need for the Perfect Installation
At Floor Trader of Weatherford, we understand just how important it is to get your new floors installed perfectly. That is why we partner with contractors throughout the area, ensuring that the person you have working on your home is skilled and trustworthy. Our preferred network of installers is made up of seasoned professionals, each one dedicated to getting you the most out of your new flooring purchase. When you're looking to get beautiful new wood tile, we are the name to trust for help from start to finish.
---
Contact us today to learn more about our flooring. We are proud to serve Weatherford, Oklahoma, and the surrounding area.